Base Camp Baja: Espiritu Santo
At a glance
Duration: 5 Days, 4 Nights
Coverage: Roundtrip La Paz, Mexico
From: $2,650
Season: January, December
Activities: Photography, Health, Wildlife
Book this Trip › or call us toll-free 1-888-815-5428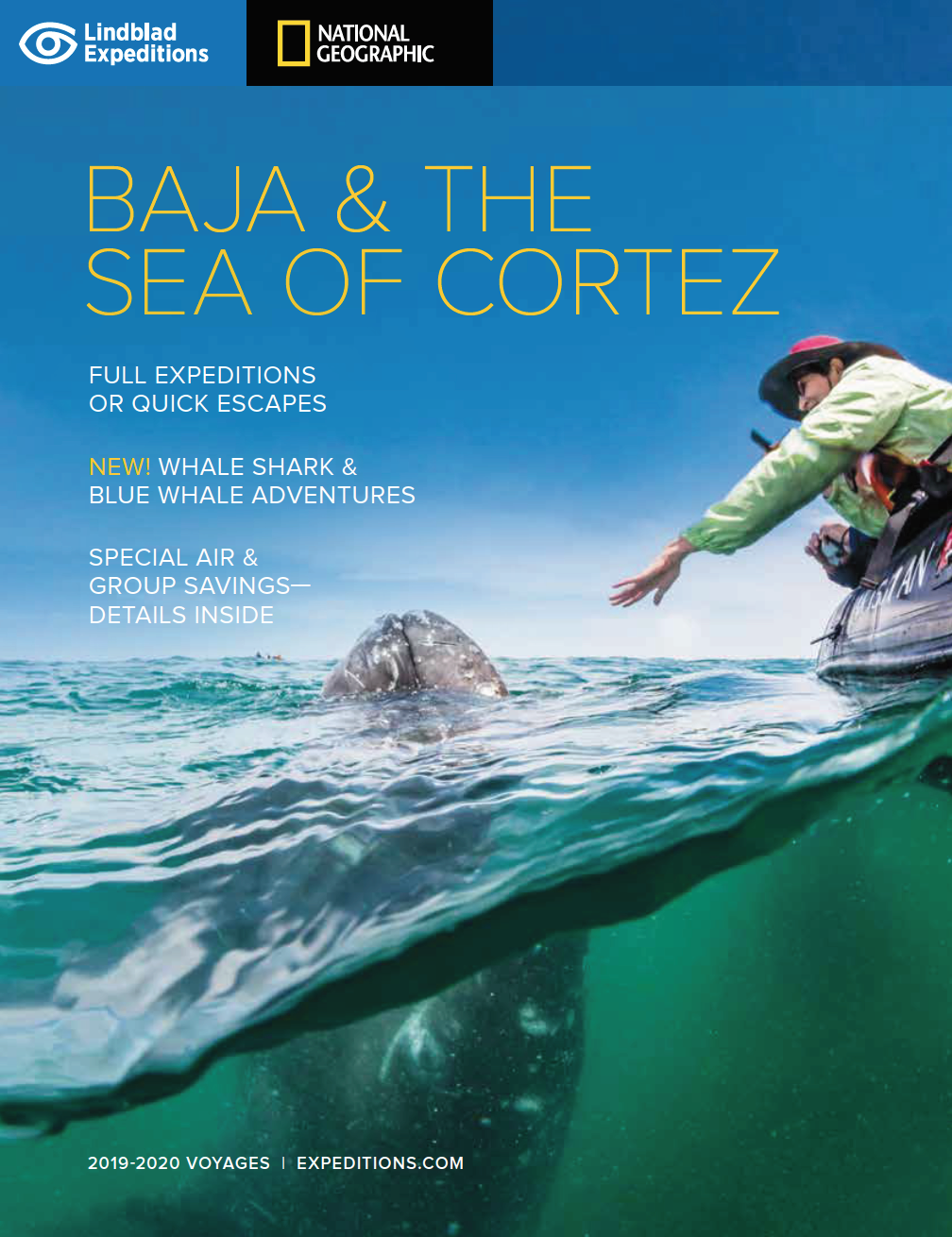 Request eBrochure
Welcome to a new kind of getaway
Lindblad Expeditions has teamed up with exhale to create a 3 or 4-day Wildness + Wellness adventure in Mexico's shimmering Sea of Cortez, aboard the National Geographic Sea Bird. Board your floating base camp in Cabo, and you'll head to Espiritu Santo and Isla Partida, two of the loveliest islands in the Sea—to actively explore unsullied landscapes, revel in pure nature, and enjoy exhale's award-winning wellbeing programs.
A break from the ordinary, featuring revitalizing opportunities:
Exult in the pristine beauty of the Sea of Cortez—azure water, bays, beaches, unique flora and fauna— and roam free in wide-open spaces
Stroll long white sand beaches in search of pearl oyster shells
Snorkel among playful sea lions and schools of colorful reef fish
Kayak along beautifully carved coastlines
Challenge body and mind with exhale fitness classes including Core Fusion Bootcamp, restorative Chill Yoga, and more
Take in panoramic views or landscapes of black lava and pink volcanic ash on exhale mindfulness hikes + post-hike assisted stretching sessions
Find balance on the water with exhale paddleboard yoga classes
Restore with pre-cocktail hour neck and shoulder massages on deck
Enjoy a sunset beach BBQ, bonfire, and end your day with stargazing
Stay mindful with daily guided exhale meditation sessions
Only here, only us
For years, developers have tried to put resorts, condominiums, even a casino, on Espiritu Santo. The Mexican NGO community, in partnership with others around the world, has fought against this and prevailed. No permanent structures of any kind mar the beauty of Espiritu Santo or its small neighbor, Isla Partida.
What we offer you is unique and effortless access—to wild beauty and pristine nature— for 3 nights or 4, using National Geographic Sea Bird, as a base camp. You'll accomplish what the developers could not—the opportunity to alight in this wild beautiful place, and participate in exhale's resort-quality fitness classes, yoga options, mindful meditations and more.
Better yet, you can freely roam. The ship is akin to a safari camp in Africa—comfortable, in the heart of things, yet mobile. Everything you want is aboard—snorkeling gear, paddleboards, kayaks and Zodiacs, a welcoming crew, smart naturalists, a wellness specialist, exhale fitness instructors, and even a Lindblad/National Geographic photo instructor to help you up your photo game and capture all the ops.
Every day they'll anchor in a new location, and you'll have your choice of things to do from a strolling beachcomb to a kick-butt Core Fusion Boot Camp. And a beach BBQ as dusk shades into starlit night, or a Chill Yoga session on deck are some of the soul-lifting ways we'll end our active days. And your bar tab is on them.
Day-to-Day Itinerary
A short escape aimed at active travelers in search of a health and wellness experience
Similar to Tulum for yoga and other retreats on Mexico's Caribbean side, we are looking to offer a new experience in Baja California travel & the Sea of Cortez that positions the region as a mecca for active getaways. Late December to early January is a popular time for Cabo resorts; the program's all-included nature should resonate when travelers compare it to hotel stays that do not include activities.
Day 1 – Home / San Jose Del Cabo / La Paz / Embark

Fly to Los Cabos airport and transfer to La Paz, where you'll embark National Geographic Sea Bird this afternoon. Set sail on arrival, for a sunset cruise of Bahía La Paz en route to Isla Espiritu Santo. (D)

Days 2-4 – Isla Espiritu Santo, Isla Partida & Los Islotes

Wake up anchored in one of Isla Espiritu Santo's beautiful bays and watch the cliffs light up as your Wellness Specialist leads a morning yoga or qi gong class, on deck, or on shore.

For two full days, you'll have the luxury to explore as much or as little as you like, with the ship as your mobile base-camp. Explore the dramatically eroded shoreline of Isla Partida on a one-way kayak journey, or join a challenging hike up a rocky arroyo to the crest of the island. Meander a different arroyo with your Naturalists to learn details of the region's geology and natural history, then learn to standup paddleboard, or hone skills you already possess. Spend a morning snorkeling with playful and curious sea lions, or photograph their antics from expedition landing craft. Relax with an afternoon massage, then go ashore for a beach barbecue dinner followed by a bonfire under the stars. However you choose to spend these days, you'll be rewarded with a sense of well-being that comes only from spending quality time in nature. (B,L,D)

Day 5 – La Paz / Disembark / San Jose Del Cabo / Home

Disembark in downtown La Paz this morning and transfer to Los Cabos airport for flights home. (B)

Enhance your voyage with a pre or post stay Guaycura Boutique Hotel, Beach Club & Spa

A boutique hotel located in a 19th century red brick historic building in the heart of Todos Santos, Baja California Sur, an authentic Mexican village where you can walk around art galleries and boutiques—featuring 3 panoramic restaurants and a pristine beach club & spa located 3 miles from the historic center—makes a fitting bookend to your expeditions aboard the National Geographic Venture.
Please note: All day-by-day breakdowns are a sampling of the places we intend to visit, conditions permitting.
Dates & Rates
| Dates | 1 | 2 | 3 | 4 | 5 | 1 (Single) | 2 (Single) |
| --- | --- | --- | --- | --- | --- | --- | --- |
| Dec 23, 2019 | $2,780 | $3,560 | $4,190 | $4,720 | $5,190 | $4,180 | $5,350 |
| Dec 29, 2019 | $2,780 | $3,560 | $4,190 | $4,720 | $5,190 | $4,180 | $5,350 |
| Jan 2, 2020 | $2,780 | $3,560 | $4,190 | $4,720 | $5,190 | $4,180 | $5,350 |
| Jan 6, 2020 | $2,780 | $3,560 | $4,190 | $4,720 | $5,190 | $4,180 | $5,350 |
Ship
National Geographic Venture
National Geographic Venture is the perfect ship to explore Alaska, Baja California and beyond. Designed with over 50 years of expedition heritage, National Geographic Venture is able to explore the same remote locations Lindblad Expeditions has sought out for decades while setting a new standard in comfort and style. She features step-out balconies (available in 22 of the 50 spacious cabins), plus 6 sets of connecting cabins for families and groups; a Sun Deck bar, and a designated mudroom for expedition gear. View ship details...
Related Video